Choose and set up your payment method
Current payment options are Stripe or Gift Card. When your payout balance in the Tapestri wallet meets the minimum payout threshold, payments are automatically sent through the preferred payment method on the last day of every month.
Gift Card: Set Up Instructions
lower fees
100's of options, including Visa
preferred payment option for app users in GEO 3 countries see list
Every time your payout balance reaches the minimum payment threshold you will receive an email notice to pick a virtual gift card for immediate redemption.
Email subject: "Tapestri Inc sent you $....."
From: "Tapestri Inc via Tremendous"
Gift card processing fees = 4% USD per payment sent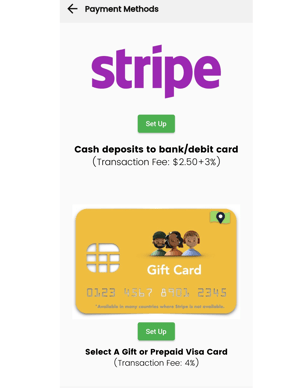 Stripe: Stripe setup - App.pdf
Processing Fee: $2.50 + 3% per payment sent
deposit is made in your country currency to your bank or debit card
Open app hamburger menu > Payment Methods > Stripe and follow prompts
When asked for a website please enter a link to one of your social media profiles or https://tapestri.io and proceed as instructed.
When you are finished setting up a payment method your wallet screen will say "You're set for autopay". That's all you need to do. When the payout balance reaches $65+ USD in Geo 1 & 2 or $0.60 USD in Geo 3, payments will be sent via your chosen payment method.- on the last day of that month.